The Opioid Crisis–What You Should Know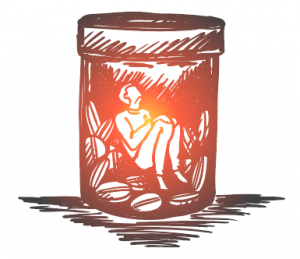 Dozens of articles have appeared in the press describing the tragic consequences of opioid abuse in the United States and throughout much of the world. Many individuals are uncertain regarding the specifics of the problem and what they can do to help themselves and others. The following are some common questions and answers regarding this important issue:
WHAT ARE OPIOIDS?
Opioids are a class of drugs that include the illegal drug heroin, synthetic opioids such as fentanyl, and pain relievers available legally by prescription, such as oxycodone (Oxycontin®), hydrocodone (Vicodin®), codeine, morphine and many others.
WHAT DO OPIOIDS DO?
All opioids are chemically related and interact with specific opioid receptors in the brain. Opioid pain relievers are generally safe when taken for a short time and as prescribed by a doctor, but because they produce euphoria in addition to pain relief, they can be misused. Regular use can lead to dependence, addiction, overdoses and deaths.
HOW DID THIS EPIDEMIC START?
In 1991, deaths involving opioids began to rise following a sharp increase in the prescription of opioid medications. In 2010, as the problem was recognized, early efforts to decrease opioid prescriptions began to take effect, making prescription opioids harder to obtain. Around this time, more individuals who were addicted to prescription opioids then turned to heroin, a potent illegal opioid, as a cheap and widely available substitute. Deaths due to heroin-related overdoses increased by 286% from 2002 to 2013; approximately 80% of heroin users admitted to misusing prescription opioids before turning to heroin. In 2013, deaths related to synthetic opioids such as fentanyl began to rise, as these drugs were much less expensive and easier to obtain.
Opioid pain relievers are generally safe when taken for a short time and as prescribed by a doctor, but because they produce euphoria in addition to pain relief, they can be misused.
HOW BIG OF A PROBLEM IS THIS?
More than 130 people in the United States die every day after overdosing on opioids. Deaths attributed to opioids now exceed the combined number of deaths from auto accidents and firearms.
WHAT CAN I DO?
People who take opioids quickly develop tolerance and dependence on this class of drug. Many adults who are prescribed opioids by doctors subsequently become addicted or move from pills to heroin or fentanyl. Seventy percent of people who have abused prescription painkillers reported initially getting them from friends or relatives and are unaware that sharing opioids is a felony.
The US Centers for Disease Control and Prevention (CDC) issued comprehensive guidelines for prescribing opioids. These prescribing recommendations state that non-opioid treatments are the preferred first step for treatment of chronic pain. Opioid medications should only be added after careful assessment of pain control and followed by regular evaulations of their continued need.
If your physician prescribes opioids, you should inquire about the alternatives that can be tried first. Often, other approaches such as non-opioid medications, psychological, physical rehabilitative therapy or approved medical devices can be quite effective. If opioids are needed despite these interventions, you should use the lowest effective dose of medication for the shortest possible time. Full disclosure to your physician of all other medications and supplements taken is also important to avoid problems. Opioids require prior authorization from Express Scripts in order to be covered under the prescription benefit. Your provider should call (800) 417-1764 to obtain such an approval.
WHERE CAN I GET HELP IF I NEED IT?
The Health Plan covers both inpatient and outpatient chemical dependency treatment under its medical benefit when medically necessary. Coverage for intensive outpatient services, partial hospitalization, residential treatment and inpatient hospitalization requires pre-authorization from Anthem Blue Cross. Prior to admission, ask your provider to call (800) 274-7767 for a coverage review.
HOW CAN I HELP OTHERS?
If a friend or relative is taking opioids, it is important to make them aware of the concerns and dangers noted above. Referral to a physician specializing in pain management or opioid use disorder may help those who have refractory pain, and addiction specialists are available if needed. If you need help finding a provider, visit dgaplans.org/networkproviders, or call the Participant Services Department at (877) 866-2200, Ext. 401.