CVS Caremark Brings Three New Programs to the Health Plan's Prescription Drug Benefit, Starting September 1
Published July 9, 2021
CVS Caremark brings three new programs to the Health Plan's prescription drug benefit, starting September 1. PrudentRx, AccordantCare and Health Advisor will offer eligible participants significant savings on certain prescription drug costs and will provide personalized support for managing complex and rare conditions…at no additional cost. Eligibility requirements and enrollment procedures for each program are described below.
PrudentRx: $0 out-of-pocket cost for specialty medications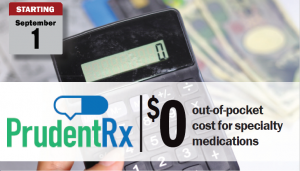 Specialty medications are used to treat chronic or rare conditions or are medications that might require special handling, administration or preparation. Because of their complexity, specialty medications are among the most expensive prescription drugs available. In 2020, specialty drugs represented over 60% of the Health Plan's total prescription drug spend at a cost of more than $17 million. ThePrudentRx program, available September 1, will reduce your co-pay to $0 and save money for the Health Plan, freeing valuable resources to maintain the Plans' robust benefits. To find out if you are currently taking a specialty medication, check www.CVSspecialty.com/druglist. All participants who take specialty medications will be automatically enrolled in PrudentRx and may opt out at anytime by calling (800) 578-4403. However, if you opt out of PrudentRx, you will pay 30% coinsurance on all specialty medications filled through CVS Specialty.
How it Works
PrudentRx works with drug manufacturers on your behalf to enroll you in manufacturers' co-payment assistance programs if one is available for your medication. For as long as you take part, PrudentRx will also manage your renewals for those co-payment assistance programs. When such a program is not available or when your eligibility for a manufacturer's assistance program expires, your out-of-pocket costs will remain at $0 for your specialty medication as long as you are enrolled in the PrudentRx program.
PrudentRx works closely with CVS Specialty to ensure all applicable savings are applied to your specialty medications before they are delivered. Specialty prescriptions filled at any pharmacy other than CVS Specialty will not be eligible for PrudentRx savings and you will pay the full cost.
How to Enroll
Enrollment in PrudentRx is automatic for all covered Health Plan participants who are taking specialty medications. Enrolled participants will receive a welcome letter and phone call from PrudentRx to answer any questions they might have. Because each manufacturer of specialty medications may have its own co-payment assistance programs, whenever you add or change a specialty medication, PrudentRx may need to contact you to enroll you in the new medication's assistance program. PrudentRx Member Advocates are available for questions and assistance Monday through Friday, 8:00 a.m. to 8:00 p.m. Eastern Time, at (800) 578-4403.
Some manufacturers may require additional information to complete your enrollment in their co-payment assistance programs. In these cases, you will be contacted by PrudentRx. Additionally, to provide you with sufficient time to supply the necessary information and to complete your PrudentRx enrollment, the Health Plan will allow a one-time only "courtesy fill" of your specialty medication without cost-sharing after September 1, 2021.
Health Advisor: Individualized support that changes with your needs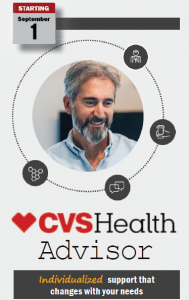 Managing a chronic condition can be a challenge, especially over time as your life changes. Health Advisor supports you through those changes by making sure you stay on track with all aspects of your healthcare. Health Advisor takes into account your circumstances at any given time to keep you informed of the next best actions you should take, not only regarding your chronic condition, but for your continued overall health and wellness. Health Advisor's interventions might be as simple as an email suggesting you get a vaccination or as involved as a one-on-one counseling session with a CVS pharmacist—all designed to complement your existing care management.
How it Works
Health Advisor continuously reviews information from a variety of sources—prescription claims, medical visits and the like—to develop a comprehensive picture of where you are in managing your chronic condition and determine your next best actions. Depending on your circumstances, Health Advisor's messaging might come via any of several channels, including telephone, direct mail, email, SMS text, prescription bag messages, messages through your provider and/or face-to-face pharmacist consultations. You are not obligated to do anything in response to these messages. You and your doctor can decide what actions, if any, you will take.
How to Enroll
All covered Health Plan participants are automatically enrolled in Health Advisor, as it provides care coordination to help participants improve their health outcomes and reduce costs. You may opt out of receiving communications from Health Advisor by calling (855) 271-6601.
AccordantCare: Multi-disciplinary support for complex needs

The AccordantCare program offers health management support to participants with any of 19 different rare or chronic conditions by providing access to its collection of case management tools to complement your providers' care. The AccordantCare program has been shown to be associated with better health, lower costs and fewer hospital readmissions for individuals with complex conditions. Enrollees can choose from two levels of engagement so that they participate in the program as much or as little as they like.
How it Works
The AccordantCare program off ers an array of health management tools to support those with complex conditions. Enrollment is voluntary, with participants choosing from two levels of engagement:
Interactive participants are assigned a dedicated RN who contacts them at least quarterly (more frequently as needed) to complete a risk assessment.
Self-directed participants receive the same benefits as interactive members, except they have opted not to have a nurse contact them on a regular basis.
The services available at each level are described below: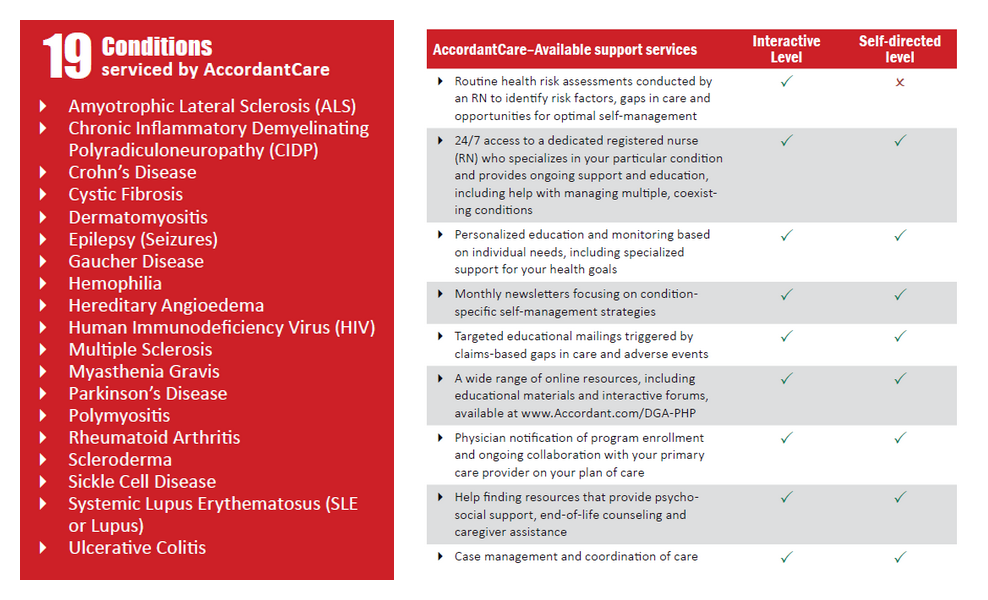 These services offer support to enrollees as needed—whether that means talking through symptoms you might be experiencing, managing potential prescription drug interactions, coordinating transportation assistance or organizing caregiver support—all to keep you in optimal health throughout the course of your condition. As part of enrolling in AccordantCare, you will also be given access to the MyChart website and Condition Advisor mobile app (pictured at right), both of which allow you to easily and securely contact your assigned care team any time day or night, track symptoms, view and manage any care plan that you and your nurse create and use the AccordantCare health library to find helpful information specific to your condition.
How to Enroll
You must opt in to the AccordantCare program. If you are identified as having any of the 19 conditions serviced by the program, AccordantCare will send you a welcome letter, informational brochure and new member form with which you can begin your enrollment, if you choose. AccordantCare may also contact you by phone. For more information about the program or to enroll, you may also call AccordantCare at (800) 237-6507.