Fall 2021 Spotlight on Benefits Newsletter Now Available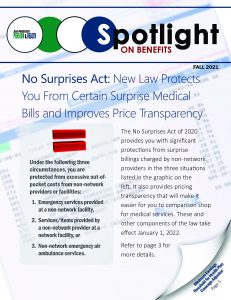 The Fall 2021 Spotlight on Benefits newsletter is now available.
This issue provides information on the No Surprises Act, beginning January 1, 2022, which provides you with significant protections from surprise billings charged by non-network providers in three situations:
Emergency services provided at a non-network facility,
Services/items provided by a non-network provider at a network facility, or
Non-network emergency air ambulance services.
The No Surprises Act also improves medical price transparency.  This article provides details on this important act.
Also included in this issue is notice of an increase in the minimum earnings threshold for the Health Plan's Choice and Premier Choice Plans to $37,000 and $120,000, respectively, for Earning Periods beginning on or after January 1, 2022.
IN THIS ISSUE:
View or download the pdf of the newsletter here